Background radiation is all around us, and always has been. That idea can be a frightening concept at face value, but the truth is background radiation is natural, normal, and expected.
Most natural background sources of radiation fall into one of three categories:
Cosmic Radiation
Think of this as steady waves of external radiation being sent from the sun and stars in space to Earth. This type of radiation occurs naturally and introduces extremely low levels of radiation to the average person. The amount (or dose) of cosmic radiation one receives can depend on weather and atmospheric conditions, the Earth's magnetic field, and differences in elevation. For example, people who live at higher altitudes like Denver, Colorado are exposed to slightly more cosmic radiation than people who live in lower altitudes, such as New Orleans, Louisiana or Miami, Florida. Furthermore, the farther north or south one is from the equator results in a higher dose of cosmic radiation due to the way the Earth's magnetic field deflects cosmic radiation toward the North and South poles.
Air travel can also expose individuals to low levels of cosmic radiation. The received dose is similarly dependent on altitude, latitude, and the duration of the flight. A coast-to-coast flight in the United States would expose an individual to approximately 3.5 mrem. For comparison, a typical medical procedure involving radiation, such as a chest X-ray, exposes an individual to 10 mrem, and the average American receives a total radiation dose of 540 mrem each year.
In general, a person's average dose from cosmic radiation in the United States is small, making up only 6% of their total annual dose.
Terrestrial Radiation
Terrestrial radiation is the portion of natural background radiation that is emitted by naturally occurring radioactive materials on earth, and it is responsible for approximately 3% of the average person's annual received dose. The physical earth, including soil and sedimentary and igneous rock, contains common elements like uranium, thorium, and radium. These naturally occurring radioactive materials, which have existed as part of the earth's crust since the earth was formed, are released into the water, vegetation, and the atmosphere as they breakdown at different rates. People are largely exposed to the resulting emitted radiation through their skin.
Radon: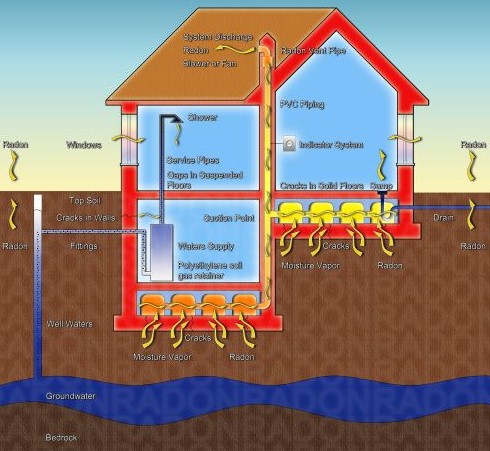 Perhaps the most significant form of terrestrial radiation is that which is inhaled. When the naturally occurring radioactive element uranium (found in the earth's crust, underwater caves, and seawater) decays it can change into a scentless, invisible gas called radon. All the air we breathe contains trace amounts of radon, and it is responsible for the largest portion of background radiation dose that the average American receives in a year. Outdoors, this radioactive gas disperses rapidly and does not pose any health risk to human beings. A build-up of radon gas indoors, however, can potentially increase the risk of lung cancer over time, which is why it is important to test homes and workplaces for radon on a regular basis. Smoking, especially near or inside the home, can amplify the risk of cancer when coupled with radon exposure.
The average person can expect to receive 42% of their annual radiation dose from radon.
Internal Radiation
Background radiation can also be received through ingestion. Some common foods contain small amounts of radioactive elements that do not pose a radiation risk to the person ingesting them. The most common example is the banana. This delicious, nutritious fruit contains naturally high levels of potassium which helps muscles contract, keeps your heartbeat regular, and offsets the harmful effects of sodium on blood pressure. A tiny portion of potassium is also naturally radioactive. A single banana emits 0.01 mrem, which is received internally by the person eating it. According to the EPA, a person would have to eat 100 bananas to receive the same amount of radiation exposure naturally received each day from the environment. (It should be noted that this naturally occurring radiation is not the same thing as food irradiation, which is a process used by humans to kill bacteria, molds, and pests to prevent foodborne illnesses and spoilage.) Overall, the levels of natural radionuclides found in our food and water are low and considered safe for human consumption by regulatory bodies.
Most surprisingly for some is the fact that other humans are also a source of exposure to one another. From birth, people have internal radiation in the form of radioactive potassium-40, lead-210, and carbon-14. These elements reside in our blood and bones. As previously noted, humans also ingest traces of naturally occurring radioactive material found in our food and water. When our bodies metabolize the non-radioactive and radioactive forms of potassium and other elements, they then contain small amounts of radiation which can act as exposures to others.
Man-Made Radiation Exposure
A more familiar source of radiation exposure to many is man-made radiation, such as procedures using X-Rays and radiation therapy to treat cancer. According to the Health Physics Society, approximately 42% of annual dose comes from man-made radiation. This percentage includes medical procedures, household products like smoke detectors, and small quantities of normal discharges from nuclear and coal power plants.
Learn more about the health effects of man-made ionizing radiation in our blog post here.
Conclusion
Natural background radiation has always been a part of life on earth, and it always will be. It is important to understand that this is not something to be feared. Low levels of ionizing radiation from naturally occurring sources such as space, the ground beneath our feet, and even some of the food we eat are not dangerous and do not pose a direct health risk to ourselves or our loved ones.
For more information, visit the Health Physics Society webpage, epa.gov, or the International Atomic Energy Agency.
Note: Visit our regulatory page to learn how Versant Physics' board-certified Internal Dose Specialists, Medical Physicists, and Health Physicists, can assist with your radiation safety program needs.
Additional Sources:
https://www.nrc.gov/about-nrc/radiation/around-us/sources/nat-bg-sources.html
https://www.cdc.gov/nceh/radiation/air_travel.html