The ALARA principle is a relatively simple safety protocol designed to limit ionizing radiation exposure to workers from external sources.
This principle was established by the National Council on Radiation Protection and Measurements (NCRP) in 1954 in response to the atomic bombings of Hiroshima and Nagasaki and the increased interest in nuclear energy and weaponry post-WWII. The philosophy has been refined over the years by different regulatory agencies such as the Atomic Energy Commission (AEC) and Nuclear Regulatory Commission (NRC) as more knowledge about radiation and its effects on living tissue has come to light. In its current form, ALARA stands for "as low as reasonably achievable" and is considered the gold standard for radiation protection.
ALARA is based on the idea that any amount of radiation exposure, big or small, can increase negative health effects, such as cancer, for an individual. It is also based on the principle that the probability of occurrence of negative effects of exposure increases with cumulative lifetime dose. As such, the ALARA principle is considered a regulatory requirement for all radiation programs licensed with the NRC and any activity that involves the use of radiation or radioactive materials.
To successfully implement ALARA principles in your radiation safety program, "it is important that every reasonable effort be made to maintain exposures to radiation as far below the dose limits in this part as is practical consistent with the purpose for which the licensed activity is undertaken, taking into account the state of technology, the economics of improvements in relation to state of technology, the economics of improvements in relation to benefits to the public health and safety, and other societal and socioeconomic considerations, and in relation to utilization of nuclear energy and licensed materials in the public interest." (10 CFR 20.1003)
Time, Distance, and Shielding
There are three factors to the ALARA philosophy which, when executed correctly, can reduce and even prevent unnecessary exposure: time, distance, and shielding.
Time
Limit the amount of time spent near a radiation source. If you must work near a radioactive source, you should work as quickly as possible and then leave the area to avoid spending more time around the source than necessary.
Distance
Increase the distance between yourself and a radiation dose. The farther away you are, the lower the dose you will receive. In many cases, the dose rate decreases as the inverse square of the distance – when the distance is doubled, the dose rate goes down by a factor of four.
Shielding
Put a barrier between you and the radiation source. The type of barrier will depend on what kind of radiation source is being emitted but should be made of a material that absorbs radiation such as lead, concrete, or water. This can also include PPE such as thyroid shields and lead vests.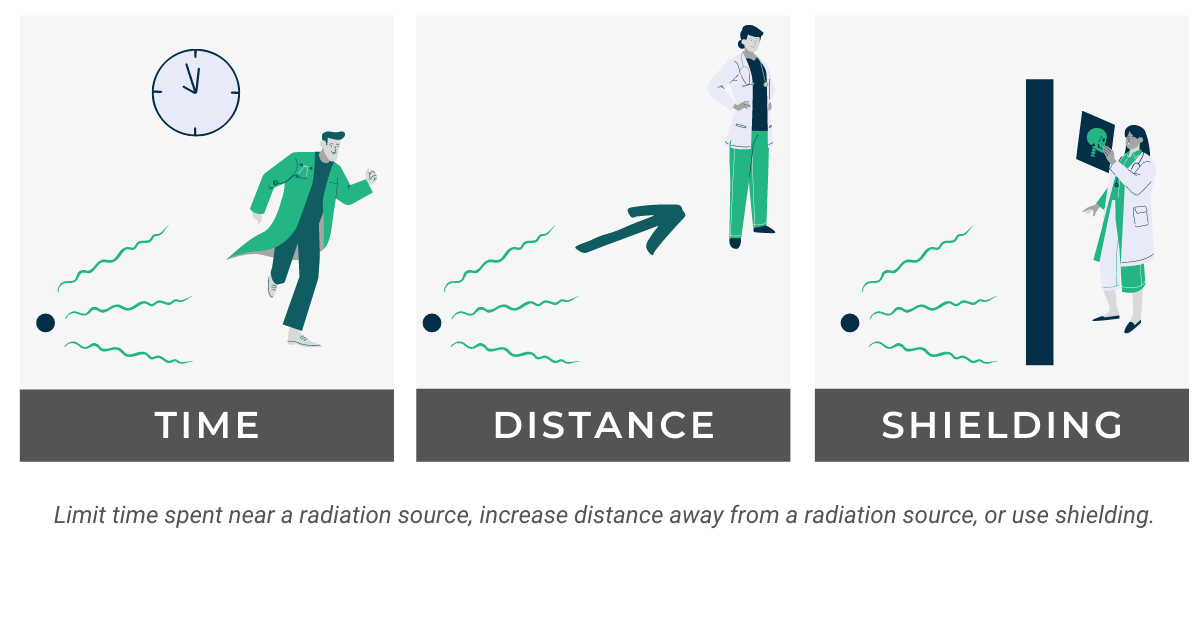 Conclusion
The ALARA principle has successfully limited exposures to workers—and patients undergoing medical procedures involving radiation—for several decades. Adhering to this principle as well as your state's radiation safety regulations will result in keeping workers healthy and protected.
Visit our website for more information on how Versant Physics' board-certified health physicists, medical physicists, and radiation safety officers can help you implement safe practices in your radiation safety program.
Sources