If you're struggling to effectively manage the complex, ever-shifting responsibilities of a radiation safety program, we have a solution. Odyssey is a proprietary SaaS product designed by radiation safety experts for radiation safety professionals. It has transformed the way RSOs, EHS specialists, medical physicists, and healthcare professionals manage their programs, with an emphasis on streamlined workflows and minimal costs.
But what is the buying process for software like Odyssey? Refer to this guide to help you understand the ins and outs of purchasing Odyssey and get a feel for what the buying process will be like.
What is Software as a Service (SaaS)?
Before diving into what the Odyssey buying process entails, it may be helpful to understand what exactly we mean when we say that Odyssey is a software as a service (or SaaS) product.
It sounds fancy, but all this means is that the software is accessible through the internet, with your individual account made available through a secure, private login. SaaS products like Odyssey are often referred to as web-based software or on-demand software. Whether you're at your home office, traveling, or doing an on-site inspection, you have access to the software and your data whenever you need it.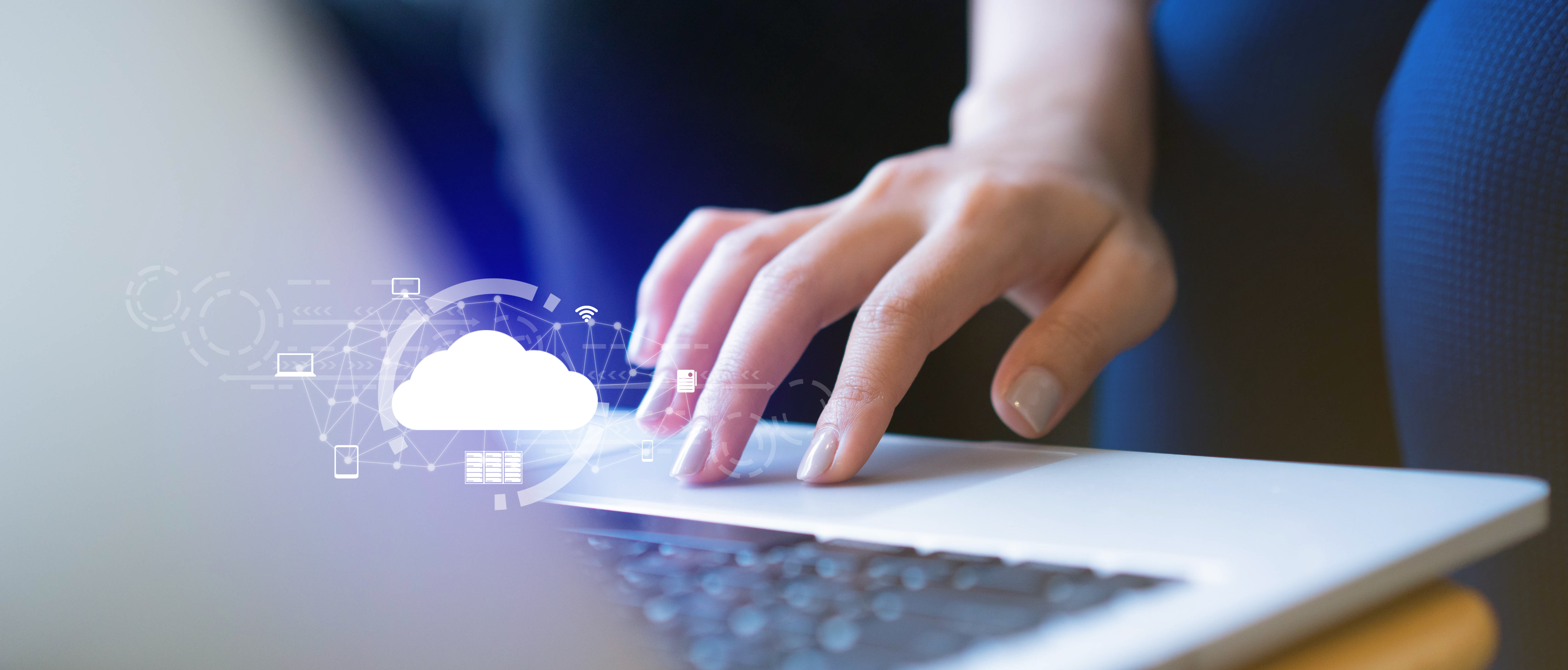 The Benefits of SaaS
There are numerous benefits to using a SaaS product like Odyssey for your radiation safety management needs.
For starters, SaaS products are purchased on a subscription basis. The type of subscription can vary depending on the product and company pricing model. Odyssey, for example, is available for purchase on a monthly or annual basis, with discounts provided for yearly subscriptions. These subscriptions are based on what the end user needs rather than offering everything in a lump sum and forcing you to pay for aspects of the software you have no use for.
SaaS products like Odyssey also allow end users to avoid the hefty up-front cost of purchasing a physical software product. There is no hardware management or expensive software upgrades to contend with. Thanks to the software's base infrastructure, which is common to all users, any updates are completed behind the scenes and integrated automatically into your account.
Because of this SaaS products are easy to customize to accommodate the individual needs of a client or group.
In summary, the major benefits of SaaS software include:
No software installation
No license management on your end
No equipment updates
Cloud-based storage
On-demand access
The Odyssey Buying Process
If you've never purchased a SaaS product like Odyssey before, the buying process may seem a little overwhelming. However, it is a simple process that can be broken down into six steps.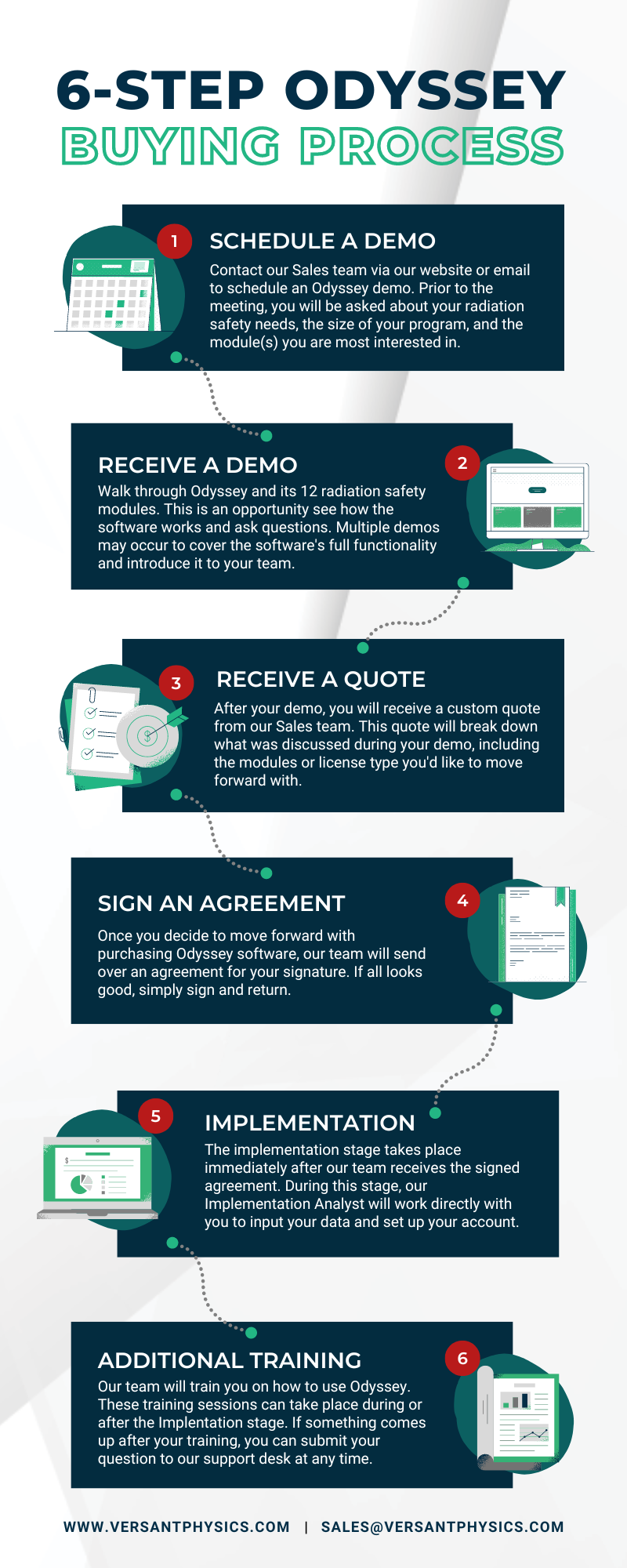 Step 1: Schedule a Demo
One of the benefits of using a SaaS product over traditional software is that you get to see how it works first. You can schedule an Odyssey demo with our team whenever works best for your schedule.
Once you're on the calendar, our Sales and Software teams will reach out to introduce themselves and confirm your appointment. They may ask a few questions to narrow down your role, which Odyssey modules you're interested in, and the size of your dosimetry or radiation safety program. These questions help our team prepare a demo that meets your specific program needs.
We will also send you a Microsoft Teams meeting link for the day of.
Step 2: Receive a Demo
On the appointed day and time, you will meet with our Director of Sales and our Odyssey Implementation Analyst for a virtual demo. The initial demo will last around 45-60 minutes.
During the demo, our team will walk you through what Odyssey is and its basic functionality. We will cover the aspects of Odyssey that you expressed interest in as well. This is an opportunity for you to see the software in action and ask any questions you may have about access, usability, or pricing.
Additional 60-minute follow-up demos can be scheduled as needed.
Step 3: Review Your Quote
After your demo, our team will send you a custom quote for your Odyssey subscription. The quote will include the license type or modules you discussed during your demonstration, a one-time software implementation fee, and the breakdown of optional training costs.
Step 4: Sign an Agreement
Once you approve your quote, you will receive an End User License Agreement (EULA) for signature. Take your time reviewing this agreement before signing and send any clarifying questions you have directly to our Sales team.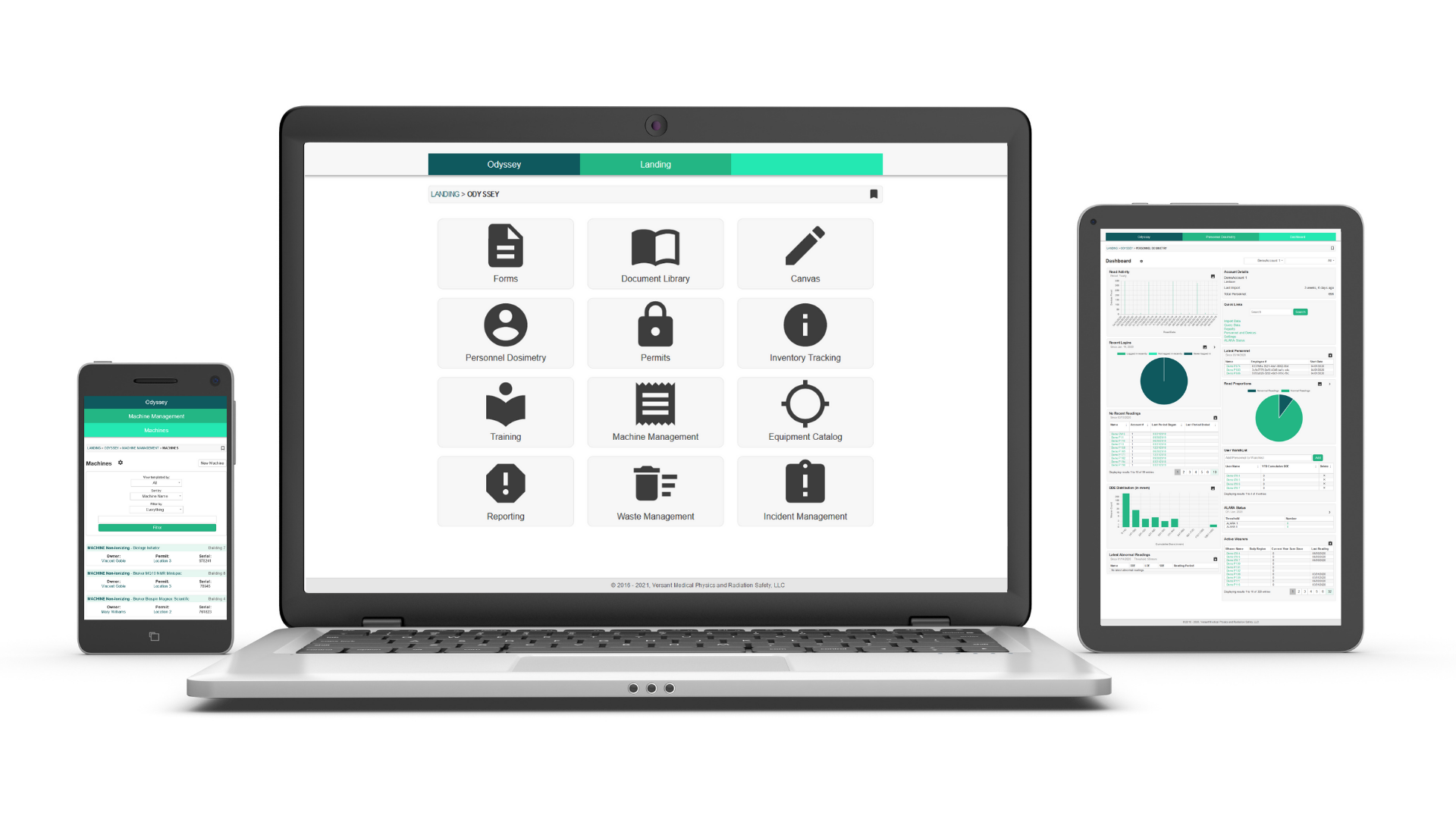 Step 5: Implementation
Once we receive a signed agreement, the Implementation process begins immediately. During this phase, our team works with you 1-on-1 to set up accounts for all Odyssey users and upload your program data. This can include everything from your list of dosimetry wearers to the x-ray machines at your facility. This phase normally takes 2-3 weeks to complete.
Step 6: Additional Training
Odyssey is a user-friendly but comprehensive radiation safety management software. Because of its depth and the number of actions that can be performed throughout the 12 modules, we provide additional training for RSOs and other account holders. Our team of Odyssey experts will train you on each module you'll use and go over specific workflows to get you started out on the right foot. This step is optional but highly recommended.
Odyssey Customer Support
Another perk of using Odyssey is the continual support you have access to. We don't just train you and leave you to your own devices (unless that's what you want!) As you work in the software, questions may arise. You can contact our team directly to submit a ticket to our Support Desk 24/7.
The Takeaway
Odyssey is changing the way radiation safety officers, EHS specialists, and healthcare professionals manage their programs. It streamlines common administrative processes for more organized and efficient workflows, in addition to providing major cost savings.
If you're considering making a move to a more efficient radiation safety management software, find out what Odyssey can offer by scheduling a demo today.
---
Want to keep up with Versant Physics and Odyssey software news? Join our email list to receive our monthly newsletter. You can unsubscribe at any time.