The purpose of a radiation protection survey is to identify higher-than-normal doses of radiation in medical environments, labs, and anywhere radiation-emitting machines or radioactive materials (RAM) are used. They are required by state and federal regulations to be performed regularly to ensure the safety of technicians, technologists, nurses, doctors, researchers, and patients.
In this brief guide we'll talk about what a radiation protection survey is, why it is important, and the type of equipment required to perform a radiation protection survey.
What is a radiation protection survey?
Radiation protection surveys are a way to directly measure radiation levels and identify potential leakage through breaks or voids in shielding.
Surveys are performed on:
Diagnostic fluoroscopic and radiographic equipment
Non-medical industrial equipment such as those found in veterinary offices
CT and CBCT machines
Particle accelerators
Irradiators
Bone mineral densitometers
Cabinet x-ray machines
Areas that use sealed sources of RAM
Packages containing RAM
The Different Types of Radiation Surveys
Not all radiation surveys are created equal. Let's talk about some of the different surveys you may encounter a need for in your radiation safety program.
Radiation Emitting Device Survey
X-ray machines and other radiation-emitting devices require regular surveys to be performed to confirm that the machine is operating as expected. Radiation producing machines are surveyed for:
Timer accuracy
Radiation output
Focal spot size
kVp and mA
Beam limitation accuracy
Filtration
Skin entrance exposure / rate of exposure
Scatter radiation measurements
Photo-timer operation
Proper signage, labels, and postings
If high or unexpected dose rates are measured during a survey, the machine should be turned off and undergo appropriate maintenance.
Area Survey
Area surveys are required anywhere a radiation device is in use and the potential for receiving a higher-than-normal radiation dose is present. These surveys are typically measured in milliRoentgen per hour (mR/hr). The Roentgen is a measure of the amount of ionization in the air from the radiation.
Anytime you have an area survey performed, you are required to keep the official records of the survey results for 3 years.
Contamination Wipe Test
A contamination wipe test, also known as an indirect or swipe survey, is used to identify radioactive material contamination on surfaces, equipment, and clothing such as those found in a lab. This type of survey can identify non-fixed radiation left behind from radioactive solids, liquids, or gasses.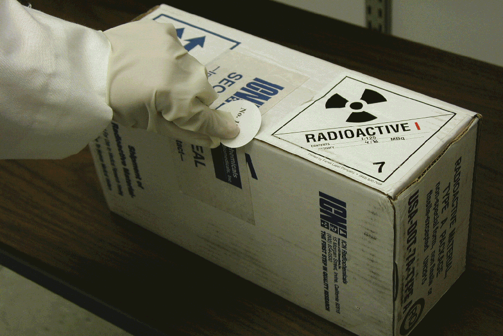 Wipe tests are recommended to be performed frequently, especially if you are a HAZMAT employee that receives or ships RAM packages. A wipe test involves wiping at least 300cm2 of the package's surfaces using an absorbent material. Afterward, the activity on the swipe is measured assuming a removal efficiency of 0.1 unless the actual efficiency is known.
Users in lab settings typically survey their work areas after an experiment or when a minor spill is suspected.
Radioactive Sealed Source
A radioactive sealed source is a source of special form RAM that has been contained or encapsulated to prevent contamination. These sources can only be opened by destruction. Semi-annual surveys of these sources are required to check for leakage.
Bioassay Survey
Internal exposure monitoring, or a bioassay survey, is performed on individuals that use unsealed radioactive materials. The survey estimates the internal organ dose to determine if any RAM has entered the body. It can also help determine if RAM is present in the air.
Bioassay surveys are performed by analyzing blood, tissue, or urine samples or by carefully monitoring the presence and/or quality of isotopes present in the organ of concern.
How often do I need to have a survey performed?
The frequency of a radiation protection survey depends on several factors, most of which depend on different state and federal regulations.
When a new or used x-ray equipment is installed
When existing x-ray equipment has been moved
If shielding has been modified
After the equipment has undergone significant repairs
If a potential problem is indicated
Who performs these surveys?
In general, surveys on radiation-producing equipment are conducted by health physicists and medical physicists.
Is special equipment required for a survey?
Special equipment is required to detect ionizing radiation. Most equipment is hand-held measurement instruments called survey meters. This equipment is required to be calibrated annually to maintain accuracy and to ensure that reliable measurements are recorded.
Survey meters consist of:
A probe which produces electrical signals when it is exposed to radiation
A control panel readout with an electronic meter that gauges the amount of radiation exposure
A speaker which provides an audible indication of the radiation exposure
There are several different kinds of survey meters physicists use to perform radiation surveys.
Geiger-Mueller Pancake Probe
One of the more commonly used survey meters is the Geiger-Mueller Pancake Detector. Although there is no "universal" radiation detector, the G-M Pancake Probe comes pretty close. This is because the probe can detect alpha, beta, and gamma radiation, although they are generally used for detecting Beta Emitters. These probes come in a variety of models and configurations.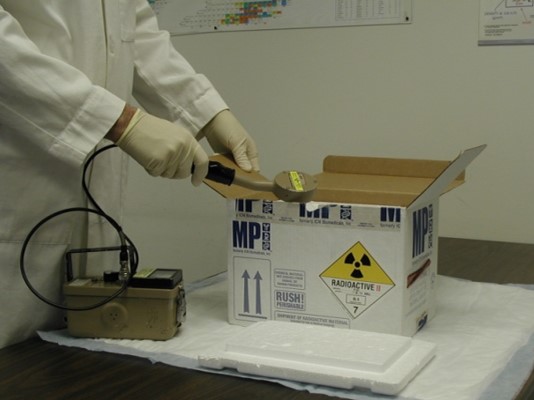 The probe detects radiation by collecting counting gas within the tube. The counting gas is ionized when a photon or particle interacts with a released electron. When the voltage is high, radiation that interacts with the counting gas produces an electronic pulse that is measured with a separate counting instrument.
A pancake probe has a thin layer of mica on the active face of the detector, which allows most alpha and beta particles to interact with the counting gas inside the tube.
G-M Pancake Probes are frequently used to detect C-14, Ca-45, P-32, P-33, and S-35.
Scintillation Survey Meter
A scintillation survey meter is used to detect low-energy Gamma Emitters and x-rays. The scintillator, or sensor, is made of a transparent crystal or liquid which shines when it interacts with ionizing radiation. The scintillator is attached to a photosensor like a photomultiplier tube which detects the generated light.
This survey meter detects I-125 and Cr-51. They are an ideal equipment choice for surveying electron microscopes and x-ray diffractometers.
Diagnostic Physics Support and Radiation Surveys by Versant Physics
When it comes to hiring a consultant to perform radiation protection or QA surveys for your equipment, you want to make sure you're working with the best. People who are experts in state and federal regulations regarding radiation machines and RAM, have access to top-of-the-line survey equipment and understand the importance of adhering to ALARA standards.
Versant Physics' proactive and transparent diagnostic physics support process minimizes safety concerns and reduces the likelihood of compliance violations. We support our clients by sharing our knowledge of best practices in advanced technologies, and by utilizing a team-based approach we feel enables our clients to focus on maximizing the quality of patient care.
Contact our team for a free 30-minute consultation to learn more about our diagnostic physics and radiation survey expertise.
---