Fieldwork is an essential component of radiation safety programs. From inventorying radioactive materials, machines, and equipment, to performing audits and inspections, there exists a need to capture real-time information while on the go.
Historically, this information would be recorded on paper forms and later transcribed to an electronic record or placed in a binder. Such methods are both outdated and time-consuming. Their very nature prohibits RSOs from accessing the most up-to-date records while traveling or on-site, and keeps them from streamlining effective administrative processes within their radiation safety programs.
But with the advent of mobile-optimized radiation safety software, performing these tasks and recording the results is more efficient than ever before.
In response to the growing awareness and need for such a software solution in radiation safety, Versant Physics has developed the cloud-based software Odyssey, with mobile optimization as a core focus. Users of the software can access Odyssey on their desktop or laptop computers, tablets, and mobile phones anywhere they have an internet connection.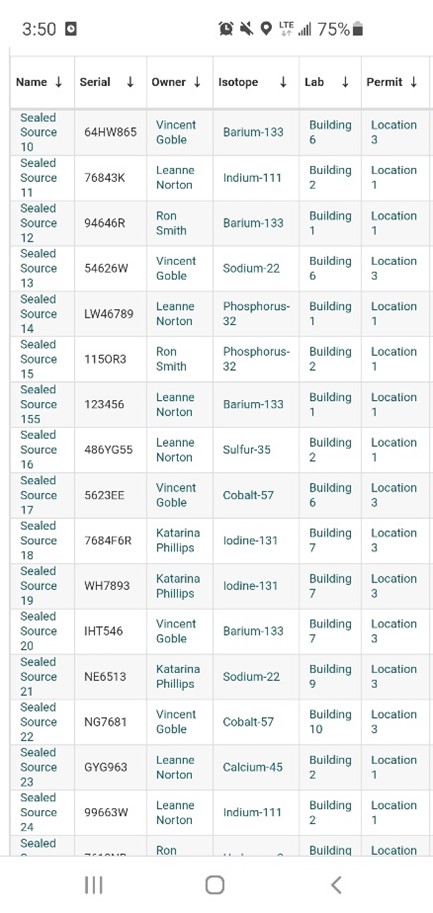 Versant Physics' implementation analyst, Katelyn Waters, has seen multiple Odyssey clients incorporate the software into their fieldwork.
"Clients frequently use Odyssey to perform on-site inventories of RAM, sealed sources, radioactive waste, machines, and equipment. They use tablets and cell phones to quickly pull up inventory records by location. From there, individual profiles can be viewed and edited on the go as needed."
These inventory records are displayed as a table with a simple and searchable format convenient for reviewing information on the smaller screens of mobile devices. Tables contain links to individual profiles with buttons to easily adjust the activity of radioactive materials, update survey, inspection, or calibration due dates, or edit other profile information.
Each profile also has the option to print out a physical label for the inventory. The label can include a logo, information from the profile, free text, and a unique QR code. The QR code can be scanned to take a user directly to a profile to increase speed and accuracy during an inventory.
"The biggest benefit of the QR code system that I see is the ability to perform cradle-to-grave tracking of RAM, sealed sources, and waste containers," says Waters. "Users can scan the QR code attached to the material throughout its lifetime to view location, activity, and ownership changes to ensure that they are always accessing accurate, up-to-date information."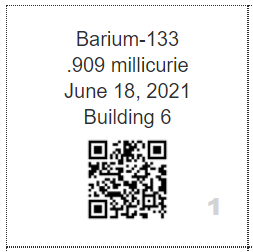 These QR codes are available to be printed for RAM, sealed sources, waste containers, machines, equipment, and laboratories in Odyssey. Utilizing the labeling tools not only helps radiation safety staff quickly access information, but also complies with FDA and NRC labeling requirements for radioactive materials, machines, and laboratory doors.
"In addition to completing inventories, we also see our clients utilize the Forms module of Odyssey for audits, inspections, and surveys," says Waters. "Customizable forms can be created which include images like floor plans. These forms can be filled out and the images marked up using mobile devices during the inspection itself."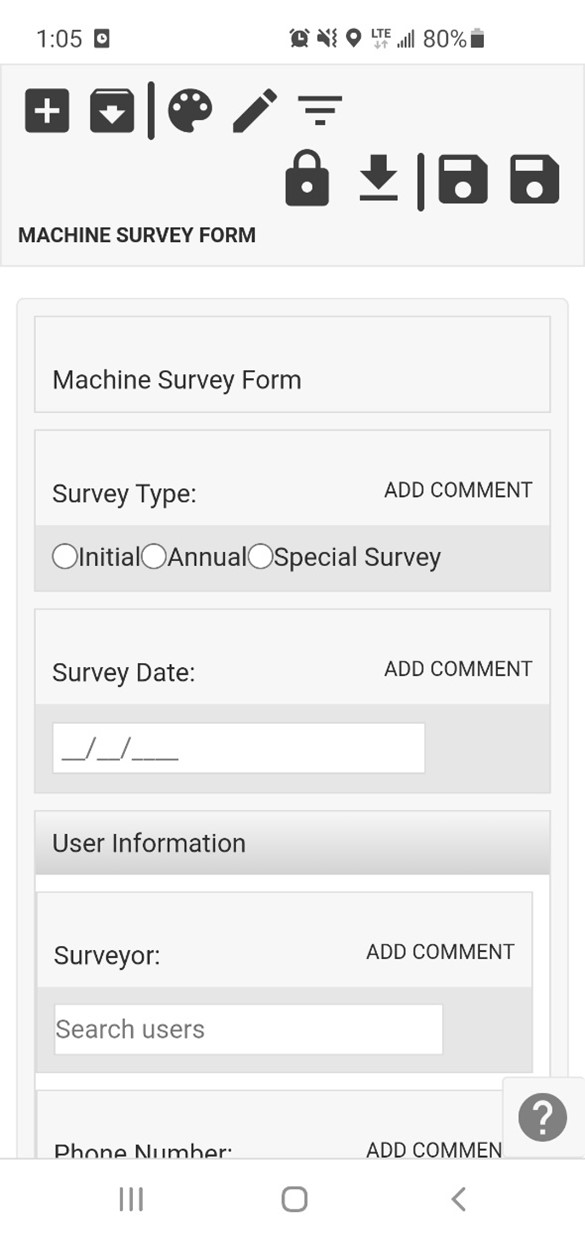 The forms utilized during these inspections are custom forms set up during the implementation process by the Versant Physics team, or by an administrator. The same form can be filled out repeatedly for consistency and to track changes in responses over time. This standardization of forms is an essential aspect of radiation safety for quality control.
Another important consideration for data capture is efficiency. Odyssey aims to accomplish efficient data collection by prefilling data from its other modules into the form where applicable. This reduces the amount of time spent filling out the form and helps minimize the potential for human error as existing data does not need to be copied over.
Utilizing cloud-based software has become increasingly relevant as radiation safety programs move from paper-based methods to electronic solutions. Performing work in the field itself on mobile devices aids in getting records more efficiently into this desired electronic format. Odyssey is engineered to assist with this transition to increase data accessibility, efficiency, and accuracy for radiation safety programs.
Interactive demos are now available! Click here to try out the personnel dosimetry and inventory tracking modules for free!
You can also schedule a live demo with our software specialists to learn more about individual Odyssey modules, mobile features, and software usability.